* Acton FD *
online since
1996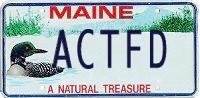 ---
actonmaine.org
actonmaine.com
Comprehensive Plan
Acton's Current Weather
Acton Ridge:
---
Getting a Burn Permit in Acton
Burn Permits are required by State Law for most outside burning. During 3 seasons of the year, volunteer lookouts scan southern Maine for smoke. These volunteers staff the few remaining Fire Towers, all in York County. If you burn without a permit, chances are pretty good that eventually someone will find your fire, even if it's fairly small. Burning without a permit is a Class E crime, but the biggest problem is it wastes lots of time and money for someone to look for the source of the smoke that was spotted by the tower lookout.

Please get a permit. Get them from personnel at the Public Safety Building, which is now staffed 24 hours a day.